7 Ways to Decrease Event Rundown Versions

An event production can take place at professional and collegiate sporting venues, corporate events and concerts, houses of worship, and even during webcasts. Regardless of the setting, the rundown is the playbook for these productions and ensures all crew members hit their respective cues, equipment is positioned in the right locations, and audio speakers avoid any awkward auditory pauses that can impact audiences' experiences.
Given the importance of a rundown, it's surprising that many event producers still utilize outdated methods such as pen and paper to create show flows or spreadsheets to print off for team members. Since events aren't usually a static occurrence, it's a tedious exercise to make hand-written changes or update an Excel document every time a show flow changes, which can be frequent depending on a production's scope and timeline.
In these scenarios, crew members may be working off of outdated rundowns or be given rundowns they aren't familiar with, both of which can cause issues during production. Producers seeking ways to avoid these potential challenges by creating and delivering more efficient run of shows to employees during their next events can follow seven useful tips:
Eliminate lengthy email and text chains by using a file-sharing tool such as Dropbox or Shoflo to conveniently store and share rundowns for event productions.


Enable crew members to easily make and view updates to cue sheets by utilizing a collaborative, real-time editing tool (Airtable, Google Sheets, or Shoflo).


Create templates to expedite and standardize the run of show creation process; although each event will be different, a well-built foundation can improve the overall quality of the cue sheet and decrease issues caused by formatting errors.


Hold alignment meetings between crew members and clients leading up to the event; ensure expectations are set and all steps of the production are clearly laid out between both sides. A collaborative editing tool is also valuable for these meetings, enabling clients and event production companies to edit show agendas and rundowns in real-time.


Ditch Excel formulas, which are known to break when time calculations are edited in the spreadsheet, in favor of a solution with automatic time and item calculations, such as Shoflo.


Utilize screen-sharing tools in pre-production and during the production so crew members can quickly view the latest versions of a run of show.


Use Shoflo's real-time collaborative software, which was designed specifically for event productions, to ensure all team members have access to the most up to date version. Shoflo's product suite includes automatic time and item calculations, file-sharing capabilities, and templates, and it eliminates the need to communicate through email.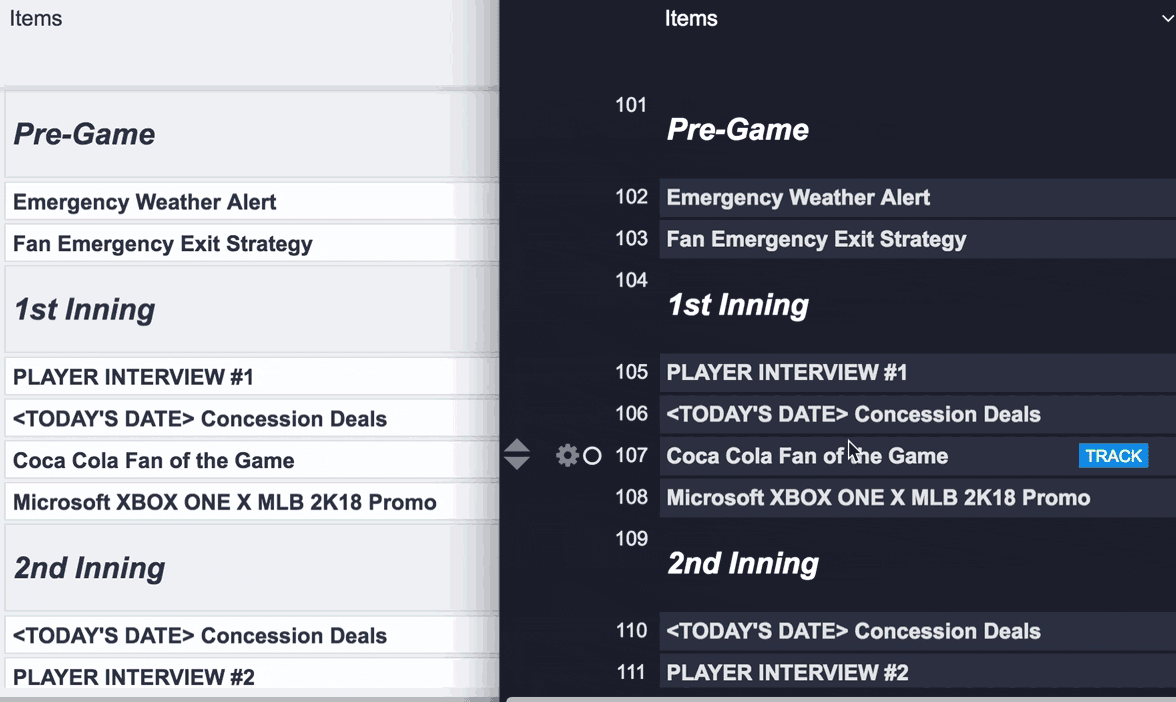 Maximize Rundown Efficiency Even Further
Events have too many moving parts to guarantee flawless performance every time out, making hand-written notes and unreliable Excel formulas detrimental to the success of your future productions. In addition to utilizing some of the tips above to replace ineffective tools and outdated methods when creating your next rundown, you should also consider incorporating key steps into your cue sheet creation process that will further enhance efficiency, minimize potential challenges, and guarantee that no element is left out. Download our complete rundown checklist to improve the integrity of your cue sheets and ensure your next event goes smoothly.